MountainStar Sports Group also interested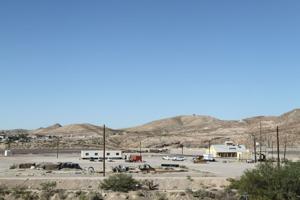 Asarco remains
Little remains of the old Asarco site in El Paso.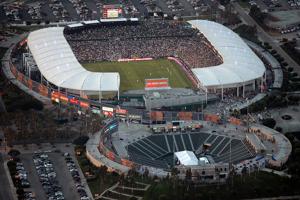 StubHub
The StubHub in Carson, California, just outside Los Angeles, was privately developed by AEG on a 125-acre site that's on California State University's Dominguez Hills campus. Its facilities include a 27,000-seat stadium for soccer. It was formerly the Home Depot Center.
By Roberty Gray El Paso Inc. staff writer
As the $80-million cleanup of the old Asarco copper smelter enters its final phase, the property is attracting attention from at least two big potential buyers.
One is MountainStar Sports Group, the owners of the Chihuahuas baseball team. The group's members recently toured the property, according to MountainStar president Alan Ledford.
Another potential buyer is the University of Texas at El Paso, which is considering, more seriously, purchasing at least a portion of the former Asarco property.
UT System officials, including a member of its real estate office, visited El Paso on Friday, UTEP executive vice president Richard Adauto confirmed.
Their visit to El Paso included a tour of the 450-acre Asarco property. Last month, Adauto visited the property along with UTEP President Diana Natalicio.
MountainStar Sports Group revealed on Thursday a public campaign to court Major League Soccer, which is looking to expand from 19 to 24 teams by 2020.
To accommodate a team, a new stadium would have to be built in El Paso, and MLS has said it prefers Downtown locations.
"It is an obvious location that is close enough to Downtown," Ledford said of the former Asarco property. "Whether or not it is the ideal location has yet to be determined."
He said there are "two or three areas" in Downtown, in addition to the former smelter site, that could also work for a stadium. But he said it is too early in the process to say which ones specifically.
As for the UTEP visit, Adauto described it as a "quick little tour."
"We were just curious what it looks like now," he said.
UTEP is mostly landlocked, hemmed in by Interstate 10 to the southwest, residential neighborhoods to the south and North Mesa Street to the east. So UTEP's leaders have long had an interest in the former Asarco property.
The UT System officials who visited the property Friday were not available for comment.
Cleanup
The landmark is hardly recognizable now that the towering stacks are demolished and nearly all signs of the industry that was once a pillar of El Paso's economy has been wiped away.
Left behind were toxic levels of heavy metals like lead and cadmium as well as arsenic, but the cleanup is on track to finish by the third quarter of 2015, according to the bankruptcy trustee overseeing the project, Roberto Puga.
"We're getting to the end of the tunnel," he said.
After the remediation is done, the Texas Commission on Environmental Quality and the U.S. Environmental Protection Agency will have to give their approval for the property to be sold and the trust to dissolve.
Puga confirmed that no deal has been signed and the property remains on the market. He also said other private entities have shown interest but "nothing solid."
"If we get an agreement, we will make an announcement," Puga said.
StubHub Center
Back in 2010, when the city of El Paso held a series of public meetings to gather ideas on how the Asarco site could be redeveloped, one idea that emerged was a sports stadium, Puga said.
"When doing the remediation, we made sure we had enough room for something like that," he said.
"We bent over backwards to leave as wide a spectrum of uses as possible," he added. "Not to say anyone is married to it, but this could be a location for a soccer stadium."
Puga, who is based in Southern California, mentioned a partnership between the StubHub Center and California State University's Dominguez Hills campus.
That center, which includes a 27,000-seat soccer stadium, is home to MLS's Los Angeles Galaxy and Chivas USA. The $150-million complex was built on university property in 2003 by a private company, Anschutz Entertainment Group, and with private financing. The Los Angeles-based sports and entertainment company leases the land from the university and is responsible for its operation and maintenance.
The deal earns the university $500,000 a year, according Robert Fenning, the university's vice president of administration and finance.
Ledford was familiar with the StubHub Center but said it was way too early in the process to say if something similar could be done in El Paso.
Other possible uses for the Asarco land, Puga said, include a research park, light warehousing, retail or university facilities.
Houses could also be built on the Asarco property east of Interstate 10, wedged between the interstate and North Mesa Street, which was not as polluted as the Asarco property east of I-10, Puga said.
UTEP has expressed interest in the mountainous, undevelopable portion of the land immediately to the northwest of the university.
It could act as a "buffer," Adauto said. He would not rule out the possibility of purchasing more property.
"I don't know, to be quite honest," Adauto added. "I would hate to guess at this point. There is always a price tag for everything, and I'm just not sure we're there."
Any land acquisition would have to be approved the University of Texas System board of regents. The regents meet in El Paso next month.
Adauto said he didn't know if land acquisition would be on the agenda.
Source: http://www.elpasoinc.com/news/local_news/article_fff0cb62-52e4-11e4-a40e-0017a43b2370.html